CORVALLIS-OSU PIANO INTERNATIONAL
Building a Culture of Piano in Corvallis
through performance, outreach, and education we broaden the appreciation and celebration of piano music in our community.
Pianist Jeremy Denk performed in 2018 
We sponsor community activities such as:
The Steinway Piano Series – International concert artists in performance.
Spanish Concerts – Concerts narrated in Spanish and featuring classical music of Latin America and Spain.
People and Pianos Celebration – Day-long festival of recitals, special performances, readings, and talks.
Jazz in the Valley – Jazz artist concert, jazz master classes, and jazz camp for students.
Children's Concerts – Free programs at the public library.
Insights at the Piano – Wide-ranging talks or lectures, usually accompanied by demonstrations at the piano.
Master Classes – Guest artists and students work together on a piece of music.
Piano Workshops – Intensive days-long sessions for students or adults led by international concert artists and faculty.
Pianist Jeremy Denk performed in 2018 
Artistic Director
Rachelle McCabe, pianist and professor of music at Oregon State University, has performed as soloist and chamber musician across North America, Asia, and Europe. She has held residencies as artist-teacher in Beijing, Hong Kong, Victoria, Kuala Lumpur, and Singapore.
A passionate ambassador for the piano, Rachelle is the Artistic Director of Corvallis-OSU Piano International. She also directs the Oregon State University Chamber Music Workshop and Summer Piano Institute.
Believing in the power of arts to bring about change, Rachelle has created innovative programs with writer/philosopher Kathleen Dean Moore addressing climate change and extinction. The duo has performed in many cities across the USA, Canada, and UK.
Rachelle holds a doctorate from The University of Michigan and a master's from The Juilliard School.
Board of Directors
Mickey Bernhardt, President
Michael Beachley, Vice President
Sally Byrd, Secretary
Larry Goeltz, Treasurer
Bonnie Esbensen
Sande Coolen
Judy de Szoeke
James Krueger
Rochelle Murphy
Jenna Proctor
Ken Saul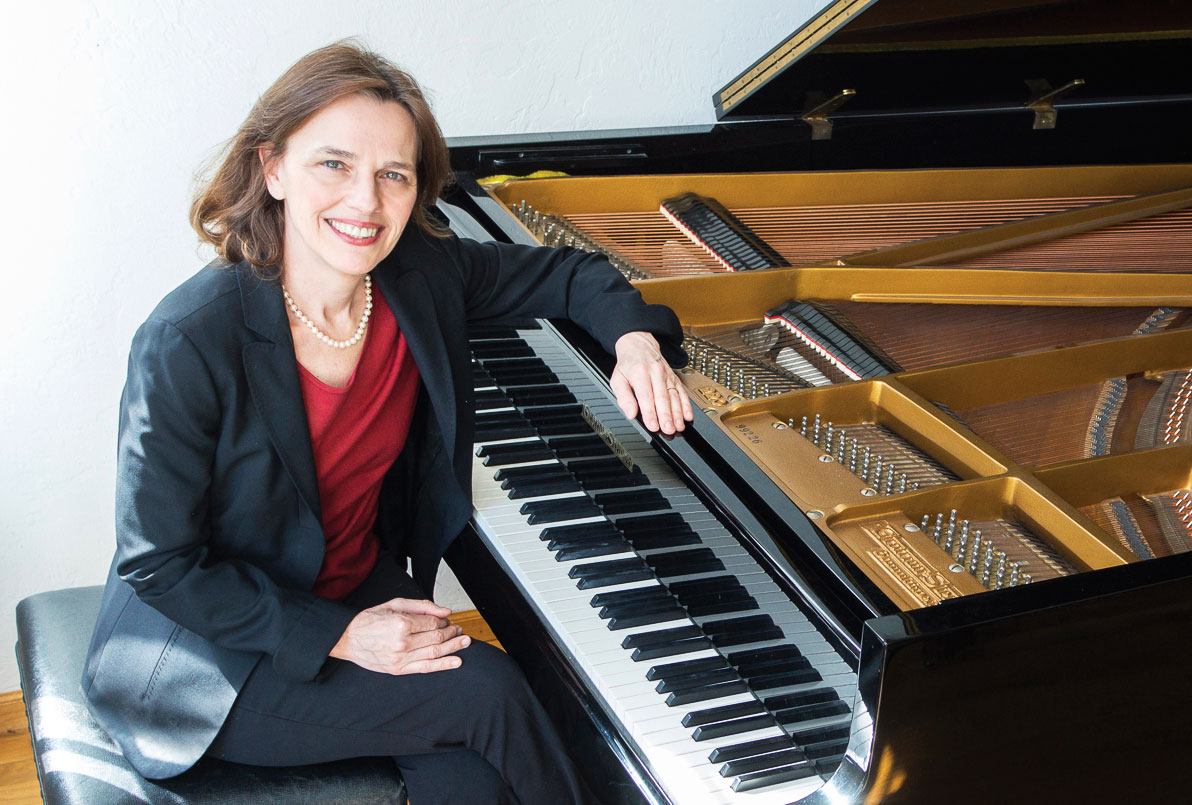 Rachelle McCabe, Artistic Director
Corvallis-OSU Piano International
A committee, led by OSU President Emeritus John Byrne, was formed to raise funds for the purchase of a new Steinway model D concert grand piano for Oregon State University's LaSells Stewart Center.
The new piano was purchased with the raised funds and money received by the trade-in of OSU's Boesendorfer piano. An endowment fund for continued maintenance of the new Steinway was established.
On September 17, 2006, a donor dedication of the piano was held featuring a recital by pianists Rachelle McCabe, Shirley Byrne, Rebecca Jeffers, and Angela Carlson.
On September 24, 2006 a free Dedication Concert, featuring Craig Sheppard, launched the Steinway Piano Series for 2006-2007 with partial support from Steinway.
The Steinway Piano Series continued in the 2007-2008 and 2008-2009 seasons with partial support from the OSU Piano Activities Fund.
During the summer a committee led by John Byrne decided to continue with the Steinway Piano Series as a financially self-supporting program.
In September, the organization Corvallis-OSU Piano International was officially formed.
The Steinway Piano Series continued for the 2009-2010 season under the direction of Corvallis-OSU Piano International.
The IRS approved our official status as a 501(c)(3) organization.
Corvallis-OSU Piano International became a partner of the Oregon Cultural Trust.
In August, Corvallis–OSU Piano International held the first Jazz in the Valley event, featuring Billy Childs.
In February, the first lecture/concert was held featuring Paul Roberts.
In October, the first children's program was held at the Corvallis Public Library featuring Jacques Després. This was co-sponsored by the library and Friends of the Library.
Corvallis-OSU Piano International joined with the Corvallis-Benton County Public Library, the Linn-Benton Chapter of the Oregon Music Teachers Association and OSU Piano Activities Fund to present three days of children's programs, concerts and lectures called Keyboard Kaleidoscope, April 10-11, 2014, and Steinway Day, April 12, 2014. The feature presentation of Steinway Day was a lecture on "The Making of a Steinway" by Susan Kenagy of Steinway & Sons, New York.
The first of several Spanish Language Concerts featuring the music of Latin America and Spain was held. Commentary was in Spanish and activities for families – many of whom wore their native dress – was held before the concert in the lobby, creating a festival atmosphere.
During the Coronavirus pandemic, live indoor concerts, including the Steinway Piano Series concerts, were rescheduled for later or cancelled. With the live music scene greatly diminished, Corvallis OSU-Piano International went online with several new piano series to keep music alive and audiences engaged during stay-at-home orders. These new piano series included World Pianists Series, The Beethoven Project, Live & Local, and Catch A Rising Star.
Another first was a live, outdoor event held at Lumos Wine Company in Philomath. Lumos provided the wine and attendees brought their own chairs and food and sat socially distanced on the lawn. Pianists Rachelle McCabe, Matt Goodrich, and Michael Gu performed a wonderful program on a grand piano on the outdoor stage.