By Matt Goodrich
For the April 14, 2019 concert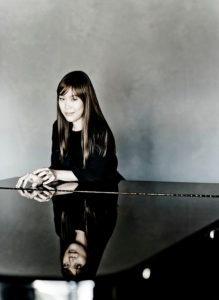 The term prelude originally referred to a piece of music (often improvised) that preceded another, usually of the same key, serving to focus the audience's attention, establish a mood, and introduce material or characteristics of the work to follow. With his 48 Preludes and Fugues that make up the two books of Well-Tempered Clavier,J.S. Bach systematically took the compositional possibilities of this kind of prelude to the pinnacle of craft and inventiveness; the canonic masterpiece has remained the exemplar in the piano repertoire for more than three centuries. Composers of the Romantic period, following the lead of Johann Hummel, began considering the prelude as an independent work, a kind of character piece exploring a variety of compositional ideas, temperaments, or aspects of piano technique. The quintessential model of this type is the Op. 28 set of 24 Preludes by Frédéric Chopin, and notable subsequent examples include those of Claude Debussy, Alexander Scriabin, and Sergei Rachmaninoff.
Chopin spent the winter of 1838-39 with his relatively new amiable consort the author George Sand and her two children on the Mediterranean island of Majorca. Despite his poor health and the logistical difficulties the group faced there, Chopin was able to write to Parisian piano maker Pleyel, "I am sending you my Preludes. I finished them on your little piano which arrived in the best possible condition in spite of the sea, the bad weather, and the Palma customs." Upon returning to Paris after convalescing in the south of France, he published his collection. Like Bach's an orderly traversal of all major and minor keys (albeit in a different relational order), the set comprises a breathtaking diversity of expression, textures, and difficulty levels. Each prelude is an original, exquisite cameo, usually composed of a single musical idea or kind of figuration, with which Chopin captured some unique essence from a universe of feelings. From the agitated energy of the first prelude through the turbulent pathos of the last, we experience fourteen miniatures that might be described as upbeat or content, seven that are turbulent in nature, and three that seem to express deep sorrow. (It would easily fill twenty times the allotted word count to do justice to each gem.) Altogether, we are taken on an unpredictable journey through what his first biographer Frederick Niecks called the "almost infinite and infinitely varied beauties collected in this treasure trove." Chopin's composer colleagues also greatly esteemed the Preludes: Robert Schumann cited them as confirmation that Chopin "is the boldest, the proudest poet-soul of his time" while Franz Liszt wrote that they "soothe the soul with golden dreams and raise it to ideal regions."
With the 13 Preludes of Op. 32 succeeding 11 from previous opuses, Rachmaninoff completed his own cycle of preludes in all 24 major and minor keys. Fresh off his first American tour, which featured the premiere of his Piano Concerto No. 3, he composed the entire set extremely rapidly in the summer of 1910, deep in the Russian countryside at his estate Ivanovka (where he did most of his composing). The Preludes are often considered Rachmaninoff's masterwork for solo piano, and Op. 32 in particular represents the height of his command. As in Chopin's set, each and every one is an expertly conceived, pianistic, captivating wonder. Unlike Chopin's, these lush scores can scarcely be considered "miniatures." Rachmaninoff's peerless virtuosity as a performer led him to create complex textures flourishing with simultaneous musical lines and copious decorative filigree—a formidable challenge to the pianist. The varied musical elements include the composer's trademark soaring lyricism; a sound world of Russian bells; vigorous folk, march, and dance elements; and brooding melancholy that explodes into intense, stormy passion. Of note is the reflective, nostalgic quality of the final prelude, which quotes from several of the others, with a rich, sonorous texture that seems to convey the deepest spirit of the composer.
This afternoon, Yeol Eum Son gives us the opportunity to hear Chopin's and Rachmaninoff's Preludes as complete sets of works. Although prelude implies that one or a small group could be presented based on the desired programming effect, there is evidence that each composer may have intended his opus as a whole. Experiencing these as broadly conceived and integrated cycles, larger narratives emerge. As they unfold, the incomparable variety of possibilities inherent in the form—animated by the genius of these composers—makes this program of preludes deeply meaningful and compelling.